Social commitment
As one of the largest employers in our region, we play an active role in shaping our social environment by supporting a range of social activities.
Donation of laptops and computers
Kern-Liebers donated laptops and computers to various schools, NGOs and police stations.
Donation of Solar Heater
Kern-Liebers India donated a Solar Water Heater to Indian Red Cross Society, a voluntary humanitarian organisation to protect human life and health.
Blood Donation Camp
Kern-Liebers India arranged blood donation camp and employees voluntarily participated in in the camp.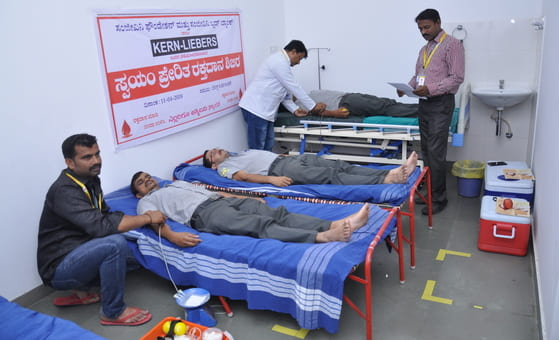 Bohnert GmbH
Meder GmbH
Schweizer GmbH
Thüringer GmbH
Kern-Liebers TMG
Carl Haas GmbH
PSM Protech GmbH
Spirel, Portugal
King, Czech Republic
Bruker-Spaleck GmbH
Bruker-Spaleck CN
Kern-Liebers Pieron,
USA and China
Brand Kern-Liebers, CN
Brand Kern-Liebers, MX

Eberle GmbH
Eberle Rieden GmbH

Gebr. Schmidt GmbH
Kern-Liebers Romania
Kern-Liebers Poland
Kern-Liebers Thailand
Kern-Liebers Guangzhou
D-Metal Tianjin China
Kern-Liebers Korea
Saxonia Umformtechnik GmbH

Kern-Liebers
Knitting Parts GmbH
Haase & Kühn, Portugal
Kern-Liebers Textile, USA and China
Saxonia Textile Parts
Naplafa
Bayerische Nadelleistenfabrik
Saxonia, Malaysia
SKPA, Hongkong