Social commitment
As one of the largest employers in our region, we play an active role in shaping our social environment by supporting a range of social activities.
Donation of laptops and computers
Kern-Liebers donated laptops and computers to various schools, NGOs and police stations.
Donation of Solar Heater
Kern-Liebers India donated a Solar Water Heater to Indian Red Cross Society, a voluntary humanitarian organisation to protect human life and health.
Blood Donation Camp-2018
Kern-Liebers India arranged blood donation camp and employees voluntarily participated in in the camp.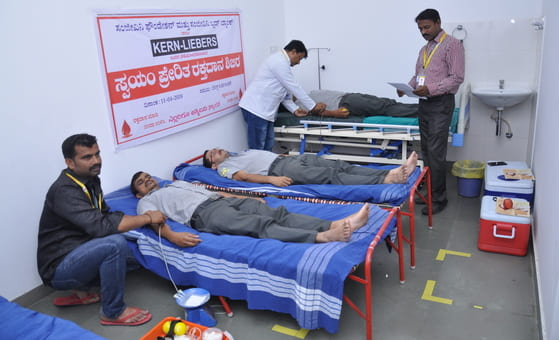 Kern Liebers India in Association with Shree Siddaganga Hospital and research Centre, Tumakuru organized a Blood Donation Camp on 5th Aug 2019.
It is believed that there is a shortage of almost 50% of Blood in Tumkur alone. KLIN joined hands with SHRC to help the patients in need. This also commemorated the MOU signed in between the two organizations.
A total of 55 units of blood was collected and 49 units were considered for use.
Donation of Laptops and Computers
Kern Liebers India donated Laptops and Computers to various nearby Government Schools. This helps the students of Governement school children to access of computers for learning computer education which is one of necessity.