Strip springs
KERN-LIEBERS has been instrumental in the development of industrial production of strip springs. We develop and build specialized machines for the production and testing of strip springs of every kind.
In the early fifties, KERN-LIEBERS started research in the field of high-strength steels and worked on the development of fatigue free steel strip from which finally the two steel qualities "Primaflex" and "Superflex" developed.
Primaflex spring steel strip is a texture rolled high-grade carbon steel. Due to its special characteristics, very high life-cycles results are achieved.Primaflex steel strip is available in various quality levels.
Superflex is a highly strain-hardened, austenitic, stainless type of spring steel strip with a similar standard quality to DIN 1.4310

Primaflex – for high torque requirements and long life, rust resistant
Superflex – for high torque requirements and long life, stainless and creep resistant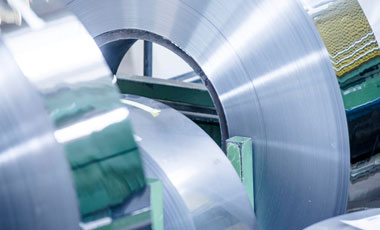 To achieve the basic form, KERN-LIEBERS brings to bear the experience in tailored machine designs gained in over 125 years of spring production. We have specialty machines in place for everything from the smallest watch springs to large springs for railway systems.
Heat treatment after the forming of the spring is an important process step that fulfills two important functions:
The internal stresses introduced during the plastic deformation process can be reduced.
Depending on the choice of material, heat treatment achieves an increase in strength that stabilizes the shape, giving the spring a high level of elastic deformability and guaranteeing the best possible use of materials.
We have facilities in place for the heat treatment of the entire range of spring materials available. We set the properties of the springs to their optimum values with precisely defined heat treatment regimes. In addition to furnaces at normal atmospheric pressure, we also have facilities for treatment with inert gas or in a vacuum.
As opposed to the use of spring tempered steels, we can also offer hardening in martensitic hardened and tempered (H&T) versions for springs with a sheet thickness greater than 4 mm.
The coiling operation is crucial in achieving the required spring performance. It can be used to selectively influence torque characteristics and operating behavior, specifically with respect to service life. From simple machines for the production of samples to complex machines with integrated measuring systems for 100% inspection of parts, we have a wide range of systems and equipment for every need.
After the basic operations used to manufacture them, the springs are finished using a range of processes depending on customer requirements.
These include
Finishing of assemblies
Pre-tensioning with various retention systems
Customer-specific anti-corrosion protection
Optimization of slide properties with special greases
Customer-specific testing technology in the final inspection
Packaging of the products in customized special packaging